01.06.2020
Камера за външен монтаж от Delta dore - TYCAM 2100
OUTDOOR MONITORING: TYCAM SMART CAMERA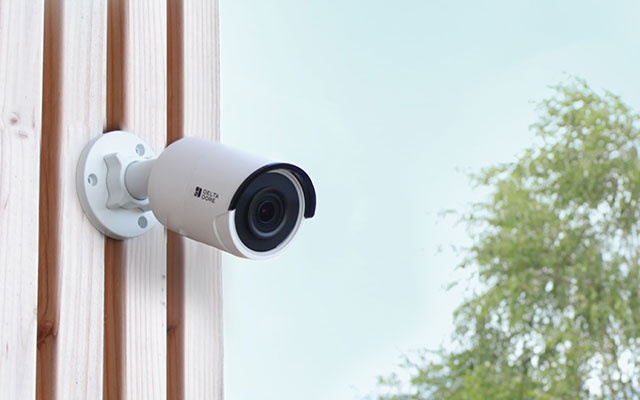 5 advantages of the Tycam outdoor camera, keeping an eye on your security.
1- AN OUTDOOR CAMERA, CONNECTED TO YOUR SMARTPHONE

The outdoor IP monitoring camera is an upstream deterrent for your home. Choosing a smart camera also means you want to stay informed everywhere, at all times. Your choice of smart camera depends on its technological performance but also on its ability to warn you remotely and safely.
For Delta Dore, 3 fundamentals are integrated into its Tycam 2100 Outdoor camera:
Secure subscription-free connection: The external camera broadcasts a secure video stream and recordings are stored locally on an encrypted SD card.
Watch live recordings: Day or night, you are guaranteed to have a perfect view of whatever is happening outside your home, thanks to the camera's long range; even in complete darkness.
Intruder alert notification: The camera notifies you immediately via your smartphone or tablet in the case of an alert
2- DETECTION ADAPTED TO THE POSITION AND LAYOUT OF YOUR OUTDOOR AREAS
 
The Tycam outdoor camera has Full HD resolution, a wide 130° viewing angle and a 4x digital zoom. With its motion detection by video image analysis, nothing escapes its field of detection. You get a quality image, day and night, thanks to its enhanced night vision of up to 30 metres.enhanced night vision of up to 30 metres.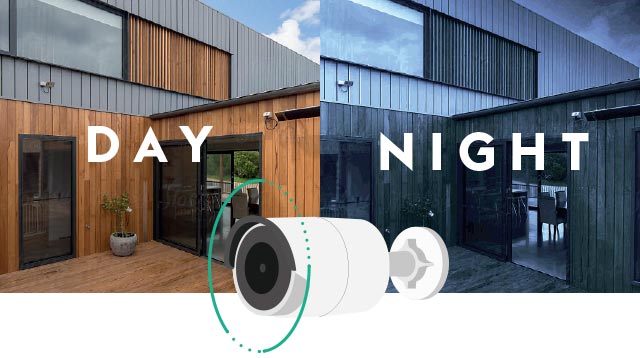 During installation, several parameters allow you to optimise its detection angle and ensure its resistance to bad weather and vandalism:
Adjustment on its axis: its head can be fully rotated 360° and can be tilted up to 90° from top to bottom.
It's IP 67 protection index: the IP 67 degree of protection ensures complete resistance to dust, water and extreme temperatures (-30° to +60°C)
The connection terminal (optional): adding a sealed connection terminal (BRE), enhances the camera connections' protection from bad weather and vandalism.

Once installed, the dedicated TYDOM application and its smart home hub allow you to complete the configuration by accessing advanced features. From within the application, you can create customised detection zones: You can select inactive zones, for example, to avoid detecting movements in the neighbour's garden that would trigger false alarms; Define specific activity areas or even crossing lines.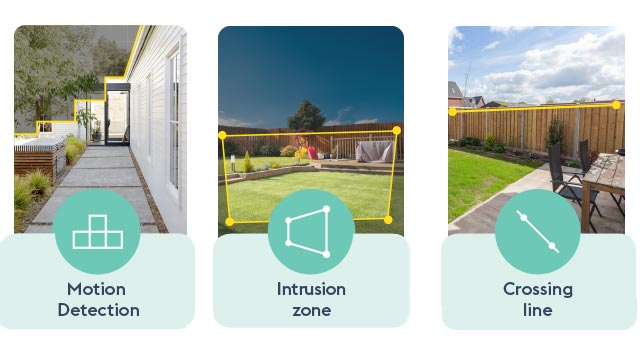 3- AN OUTDOOR CAMERA THAT BECOMES A SECURITY DEVICE

24 hours a day, and 7 days a week, the camera is ready to detect any anomalies in your yard or garden, well in advance of an attempt to break into your home. It effectively secures your outdoor areas since it features:
An integrated detection by video image analysis.
An alert system by notifications and video display of the event on your smartphone.
Historical videos that can be downloaded or stored for 30 days.
You can also perform a spontaneous check or trigger recordings at any time from your smartphone.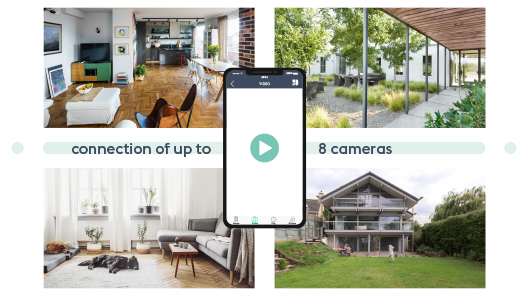 With the live streaming function, the Tydom application displays a video wall that can show you, live, what your Tycam* cameras are filming outside. Choose to disable the cameras in one click to preserve your privacy.
* Connect up to 8 cameras. Live video wall up to 4 cameras (shows 2 or 4 cameras).
4- A CAMERA FEATURING PROFESSIONAL TECHNOLOGY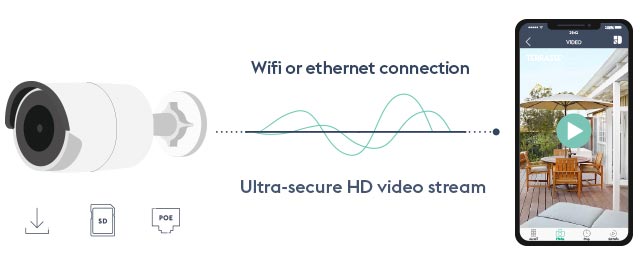 The Tycam smart outdoor camera is subscription-free. It records a secure video stream in Full HD and stores everything it shoots on a 16 GB encrypted SD card* (provided).  It supports codec H265, which enables significant optimisation of bandwidth and storage space, without any deterioration in video quality.
This IP video surveillance camera records video in 2 million pixelsi.e. 1080p. Featuring a fixed 4 mm optical sensor and enhanced night vision of up to 30 metres, it delivers all the details and a excellent image colour quality, even in total darkness.
It can be connected in WIFI or Ethernet mode. The PoE function powers it directly through the RJ45 cable. A 230V external power supply is also available.
* Maximum capacity supported up to 128 GB. The use of an SD card other than the one provided with the product does not guarantee that the data will be encrypted, preventing data theft by a third party.
5- A CAMERA INTEGRATED INTO THE WORLD OF THE DELTA DORE SMART HOME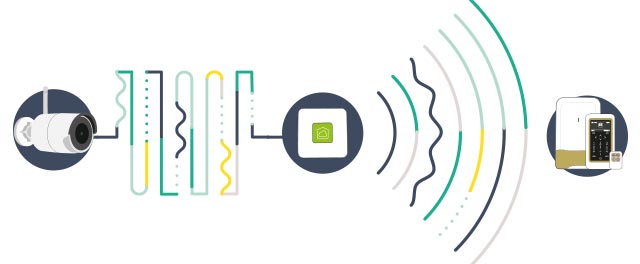 The outdoor camera is a first step to protect your loved ones and property. The Tycam 2100 Outdoor camera is connected to the Tydom smart home hub. You use the Tydom application, which can be downloaded free of charge from Google Play or the App Store, to view your camera.
With Tydom, it is simplicity itself to upgrade your smart home installation, such as adding a smart alarm system, a smart indoor camera or controlling the heating, lighting or smart roller shutters, etc