17.07.2020
Камера за вътрешен монтаж от Delta dore - TYCAM 1100
INDOOR MONITORING: THE TYCAM SMART CAMERA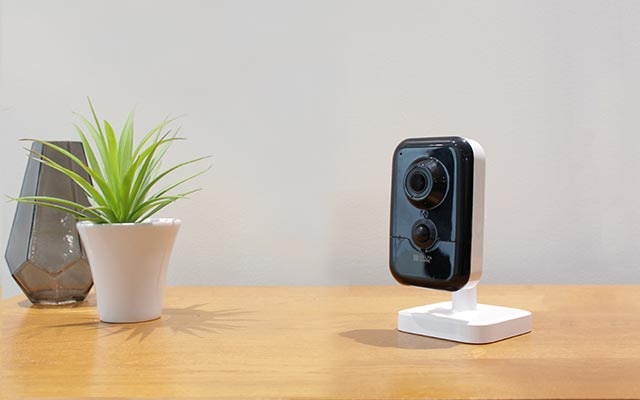 5 advantages of the Tycam indoor camera, keeping an eye on your security.
1- AN INDOOR CAMERA, CONNECTED TO YOUR SMARTPHONE
The IP monitoring camera films the inside of your home when you are not there. Choosing a smart camera also means you want to stay informed everywhere, at all times. Your choice of smart camera depends on its technological performance but also on its ability to warn you remotely and safely.
For Delta Dore, 3 fundamentals are integrated into its Tycam 1100 Indoor camera:
A secure subscription-free connection : all video data is secure, protected and stored on an encrypted SD card provided with the camera.
Live stream with recording: :  it's instant, day and night... you keep an eye on your loved ones and property, with impeccable image quality.
 Intruder alert notifications: because it is reassuring to know that you will be immediately warned of any attempt to break into your home. With its integrated siren, the camera features very dissuasive alarm features for burglars!
2- A DETECTION FIELD SUITED TO THE INTERIOR LAYOUT OF YOUR HOME
 
The Tycam indoor camera has Full HD resolution, a wide 130° viewing angle and a 4x digital zoom. Featuring integrated double detection, motion and video, nothing escapes the camera's field of vision. You get a high quality image, day and night, thanks to its enhanced night vision of up to 10 metres.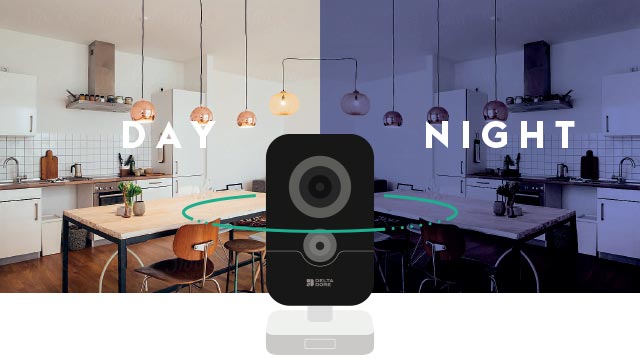 During installation, several parameters allow you to optimise its detection angle:
Adjustment on its axis: its head can be fully rotated 360° and can be tilted up to 90° from top to bottom.
 Its position in the home: it can be placed on an item of furniture, mounted on the wall or directly on the ceiling.

Once installed, the dedicated TYDOM application and its smart home hub allow you to complete the configuration by accessing advanced features. From within the application, you can define customised activity areas to highlight areas of interest, areas to be excluded or crossing lines that will trigger the alert or prevent you from being disturbed by false alerts.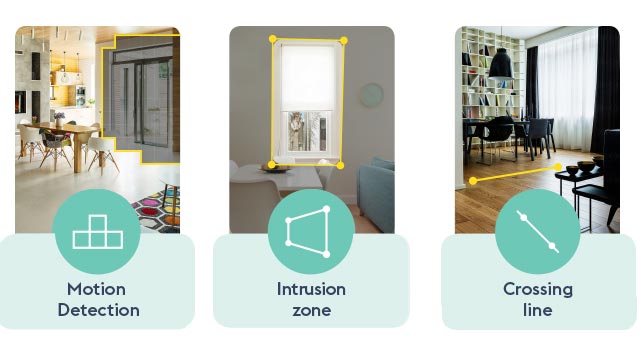 3- AN INDOOR CAMERA THAT BECOMES A SECURITY DEVICE

24 hours a day, and 7 days a week, the camera displays what is going on in your home. It is a genuine alarm system since it features:
Integrated double detection by video image analysis and heat detection.
A powerful dissuasive siren (85 dB) when movement is detected.
An intercom function to listen or speak clearly through the camera, from your smartphone.
An alert system by notifications and video display of the event on your smartphone.
Historical videos that can be downloaded or stored for 30 days.
You can also perform a spontaneous check or make recordings at any time.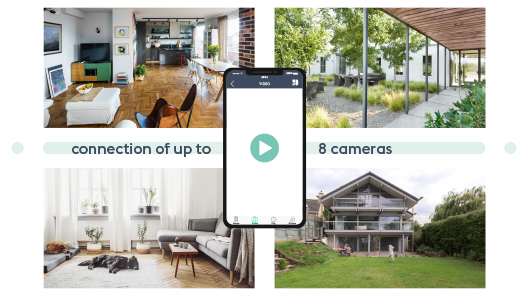 With the live streaming function, the Tydom application displays a video wall that can show you, live, what your Tycam* cameras are filming at home. Protect your privacy with a single click by choosing not to film your loved ones, disabling the cameras to preserve your privacy.
* Connect up to 8 cameras. Live video wall up to 4 cameras (shows 2 or 4 cameras)
4- A CAMERA FEATURING PROFESSIONAL TECHNOLOGY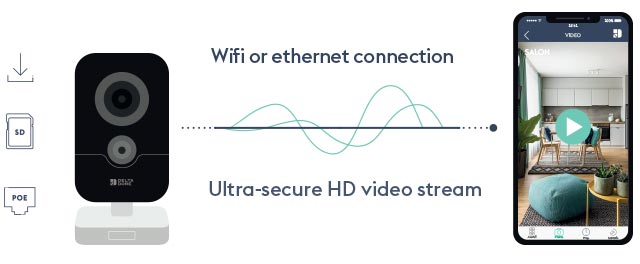 The Tycam smart indoor camera is subscription-free. It records a secure video stream in Full HD and stores everything it shoots on a 16 GB encrypted SD card* (provided). It supports codec H265, which enables significant optimisation of bandwidth and storage space, without any deterioration in video quality.
This IP video surveillance camera records video in 2 million pixelsi.e. 1080p. Featuring a fixed 2.8 mm optical sensor and enhanced night vision of up to 10 metres, it delivers all the details and a excellent image colour quality, even in total darkness.
It can be connected in WIFI or Ethernet mode. The PoE function powers it directly through the RJ45 cable. A 230V external power supply is also available.
* Maximum capacity supported up to 128 GB. The use of an SD card other than the one provided with the product does not guarantee that the data will be encrypted, preventing data theft by a third party.
5-
A CAMERA INTEGRATED INTO THE WORLD OF THE DELTA DORE SMART HOME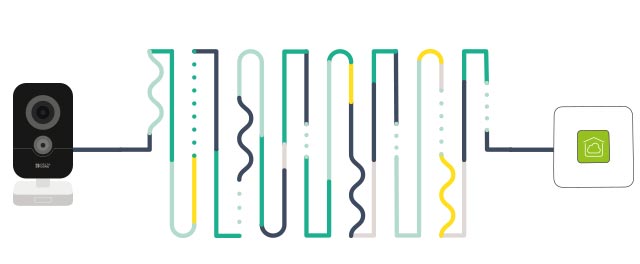 The Tycam 1100 Indoor camera is connected to the Tydom smart home hub. You use the TYDOM APPLICATION (downloaded free of charge from Google Play or the App Store) to view your camera. It fits perfectly into the world of the Delta Dore smart home and allows you to complete your smart home installation with other smart devices: outdoor camera, heating, lighting or connected roller shutters, etc.